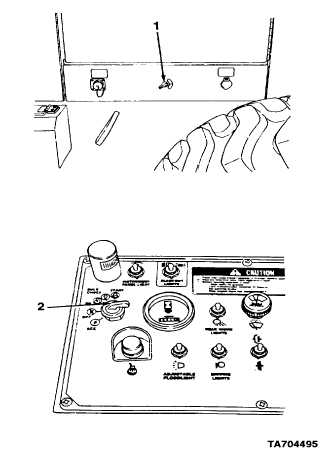 TM 10-3930-659-10
2-11.  START ENGINE.
a.  Turn battery disconnect switch (1) to ON position.
b.  Turn Ignition switch (2) to ON position.
WARNING
Start engine only while properly seated on operator's seat, seatbelt
fastened,  cab  door  and  cab  right  side  window  latched  In  desired
position,  and  mirror  adjusted.    Failure  to  follow  this  warning  may
result In Injury or death to operator or nearby personnel.
c.  Sound horn (5) to alert personnel in area that forklift truck is being started.
d.  Move Ignition switch (2) to BULB CHECK position and ensure that all indicators light.
TA704495
2-40