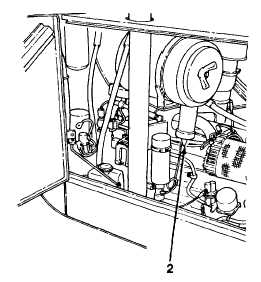 TM 10-3930-659-10
Table 2-1.  Preventive Maintenance Checks and Services (Con't).
LOCATION
ITEM
ITEM TO
NOT FULLY MISSION
NO.
INTERVAL
CHECK/
PROCEDURE
CAPABLE IF:
SERVICE
4
Before
Air
Cleaner
Dust
Valve
WARNING
If  NBC  exposure  is  suspected,  all  engine  air
cleaner  air  filter  media  should  be  handled  by
personnel
wearing
protective
equipment.
Consult   your   NBC   Officer   or   NBC   NCO   for
appropriate handling or disposal procedures.
Squeeze dust valve (2) to remove dust from air
cleaner.
TA704482
2-16